Are you looking for fun things to do with your subjects now that you've got them into hypnosis?
Get 10 More Fun Things To Do With Hypnosis Now!
If so, you've come to the right place!
On this page you can sign up for my newsletter and as a special bonus when you sign up, you'll receive a link to download my eBook 10 More Fun Things To Do With Hypnosis.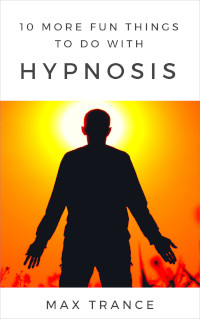 I'll probably throw in some mystery gifts too!
This eBook has been designed as a companion work to go with my Hypnosis Quick Start Guide and my Hypnosis Quick Start Workbook.
If you don't have either of those books yet, all you need to use the stuff inside 10 More Fun Things To Do With Hypnosis is one way to induce hypnosis, and a willing subject to try things out on.
Any method you can use to successfully induce hypnosis is likely to work. You can even just read someone a script if you really want to.
Inside you'll find some simple and easy-to-do things that any hypnotist can use, including:
How to cause someone to go into hypnosis at the snap of your fingers.
How to have someone forget a number for a short time, and what it's useful for.
How to have someone talk like the creature of your choosing, whether it's a cat, dog, robot, alien, or whatever.
How to turn water into scotch! Or any drink you might choose.
Cause people to hallucinate. This one has countless uses.
How to make someone think you can teleport things! Warning: Doing this one can cause some subjects to believe that you can do real magic.
Partial scripts to get you started. Tailor the scripts to suit what you want to do.
And more besides.
Sounds awesome, right?
And you can get it all by clicking the button and following the easy instructions.